Currently numerous 3D Printing Materials, such as plastics and metals, can be 3D printed. Recently, we also saw that liquid metals can be also 3D printed in 3D Printing of Liquid Metals at Room Temperature video.
The range of metals in 3D printing is increasing rapidly as the industrial 3D printer supplier ExOne has added iron infiltrated with bronze, and bonded tungsten, to the range of metal and ceramic powders that can be used with its multi-material M-Flex machines, Design News reported.
Rick Lucas, ExOne's CTO, told Design News, "The company choses the iron because its cost is lower than stainless steel."  in an interview. Iron costs about 25 percent as much as stainless steel. The cost ratio of materials to total part cost also depends on part size: When making parts smaller than the size of the human hand, materials cost is only about 10 to 15 percent of total part cost.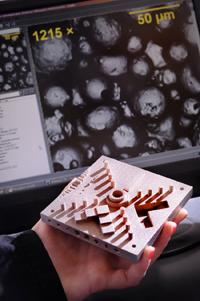 Lucas also added, "But as parts get larger, materials can be more than 30 percent of the cost. That's significant," You won't find stainless steel in a lot of industrial applications like automotive parts, machine tools, heavy equipment, and support structures. That's where iron is needed, for both cost and strength. Instead, the main use for stainless parts now by ExOne's customers is impellers and abrasive-type pumping applications."
You can read Ann R. Thryft original article at DesignNews.com.